Another book from the backlist of Betty Jane Hegerat, this time an anthology to which she contributed a piece.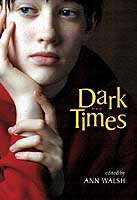 The anthology Dark Times was published in 2005 by Ronsdale Press: http://ronsdalepress.com/books/dark-times/
I was working on Running Toward Home, and struggling mightily with sustaining the perspective of a teenaged boy throughout a book length story. When I saw the call for submissions for an anthology for young people dealing with loss and grief, one of my children had recently dealt with a dark and difficult experience. The writing of "Kick", my contribution to Dark Times, was in part a way of trying to make sense of that experience, and an exercise in getting inside the skin of a fourteen-year-old boy.
Why should you read this book, and then pass it along to young people in your life?
1. We assume, I think, that books for pre-teens and teenagers need action, adventure, fantasy, to hold their attention. I know from reading to my children from the time they were old enough…
View original post 358 more words